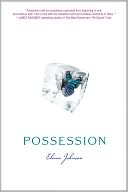 Possession

by Elana Johnson
Simon Pulse
2011
page count not yet determined; the arc was 404 pages
Available June 7,2011

Possession
is a debut dystopian ya novel that teen readers of both romance and action will like. Vi (Violet) is always breaking rules--the Thinkers in this future dystopia decide how everyone should live and the rules are made to "protect" the society. Girls don't walk with boys, hats will be worn at all times, skin will be covered, kissing is not allowed. When Vi sneaks out and meets her boyfriend, she is apprehended and taken to a prison. Her "trial" is presided over by robots called mechs and evil, humorless mortals.
Her punishment: banishment. She goes on the run with fellow rule-breaker and bad boy Jag. Together they try to thwart the Thinkers and their plans. Creepy family relationships get in Vi's way, and when she finds out her true identity, or calling, she is appalled. Can they control Violet? Or is she strong enough to break their control?
The twist at the end was totally satisfying! This novel is similar to
Matched
by Ally Conde in that both female characters find themselves in a love triangle with "strings attached" and weird family twists. Both societies are somewhat parallel as well. If a reader loved
Matched
, chances are he/she will love
Possession.


Recommended grade 9-up. Sleepover with boyfriend, kissing, violence, cruelty.
FTC Required Disclaimer: I received this book from the publisher. I did not received monetary compensation for this review.